Advertising on
ClubKayak.com
We make it easy to connect with thousands of kayak and canoe paddlers and outdoor enthusiasts in Florida!
By advertising with us your message is displayed to people who are interested in your business and in a place where they are likely to notice your ad - on Florida's top paddlesport site. Your eye-catching ad appears on ClubKayak.com and starting in 2012, ClubKayak.com's Florida Paddlers Gazette, an email and online newsletter.
When you advertise with us not only do you get more potential customers but you also get to control cost with a single low rate for annual advertising. No more guessing how much you'll spend with pay-per-click or per-insertion advertising. One fixed cost, one year.
---
We can create an ad for you
If you don't have the time, we can create an advertisement for you. We'll even build a static ad for free when you sign up with Wetstone Media for a Large Button Ad ($75 annual) or Wide Skyscraper ad ($250 annual). You provide the message and photos (optional) and we'll put the ad together. Limit 2 design revisions. Flash and animated ad design starts at $50 and up. View Ad Examples.
Rather build the ad yourself?
Ads are 160x120 pixels in size (Large Button Ad) or 160x600 pixels (Wide Skyscraper). Static ads can be JPG, GIF or PNG format. Below is a blank image that you can use as a template.
---
Get Started Now
If you are interested in having your ad be seen by thousands of Florida paddlers and outdoor enthusiasts on ClubKayak.com, please send an email to sales@wetstonemedia.com. Be sure to mention "Club Kayak Advertising" in the Subject and we'll get back to you right away.
---
Club Kayak Statistics
The chart below shows the total number of website pages that have been viewed (page views) per quarter since December 2005.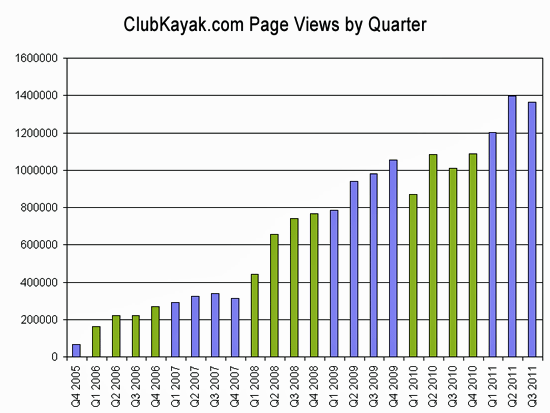 Most active quarter was Q2 2011 (April-May-June) with 1,397,533 page views. Most active month was June 2011 with 539,598 page views.
---
Advertising FAQ
Q: Who do I contact if I have questions about advertising?
A: Call Wetstone Media Sales at 888-908-3201 Ext. 5 or email sales@wetstonemedia.com.
Q: What do I get when I advertise with you?
A: You get our experience in online advertising and marketing to make sure your advertisement is going to be seen by the Florida paddling community. We are going to work with you to build an effective advertisement that brings people to your business or non-profit organization. In addition to ad placement on ClubKayak.com, you get a business directory listing and your organization will be promoted in the Club Kayak newsletter. Finally, we promote your organization through a post on our Facebook and Twitter accounts.
Q: How many clicks can I expect in a year?
A: Much of this depends on the number of advertisers and the design of your ad. The more attractive your ad or the better the deal, the higher the click-thru rates. Average click-thru rate is 1% to 3%, meaning that you can expect 1 to 3 clicks for every 100 times your ad displays. You can expect many new visitors to your website.
Q: Who uses Club Kayak?
A: Club Kayak is used mostly by people interested in kayak and canoe paddling in Florida. We also have a number of hikers, bikers and many, many people who camp in Florida. Here is a demographic breakdown as of December 2011:
Gender
Age
Income
Education

| | | |
| --- | --- | --- |
| Under 18: | 6% | |
| 18 to 34: | 18% | |
| 34 to 49: | 42% | |
| Over 50: | 34% | |

| | | |
| --- | --- | --- |
| $0 to $30K: | 16% | |
| $30 to $60K: | 25% | |
| $60 to $100K: | 43% | |
| Over $100K: | 16% | |

| | | |
| --- | --- | --- |
| High School: | 33% | |
| College: | 52% | |
| Grad Degree: | 15% | |
Q: How often can I change my ad?
A: You get one free ad swap during the year when you provide the ad image. If you want to change out the ad more than once, there is a $50 charge per swap.
Q: How do you promote Club Kayak?
A: The various club websites on ClubKayak.com are promoted online and in print. ClubKayak.com has "feeds" that provide information to Google, Yahoo, Bing and other search engines. Many of the clubs on Club Kayak proudly display their web address on printed and promotional material. Finally, new for 2012, we're starting an online newsletter, Florida Paddlers Gazette, that promotes paddling and ClubKayak.com.
Q: Do you have rules about advertising?
A: Yes, we do. Wetstone Media, LLC reserves the right to refuse or remove any advertising that in their opinion is unlawful, misleading, competes with ClubKayak.com or liable to cause offence to our online community. Wetstone Media may discontinue or modify this advertising program at any time. If advertising is cancelled by Wetstone Media pro-rated payments will be refunded to the advertiser.
Revised December 5, 2011
Grow your business or organization by advertising on ClubKayak.com.