| | | | |
| --- | --- | --- | --- |
| Report By: | gbailey | Date: 1/25/2003 | |
| Rating: | | Photos: See 1 photo | Map & Directions: View |
| | |
| --- | --- |
| | St. Johns river up the Black Creek |
My Report:
by Greg Bailey

After a couple of very cold mornings we were determined to paddle on this day as long as the sun made an appearance. It did and the day turned out to be a great one to paddle, with occasional light winds and lots of wildlife.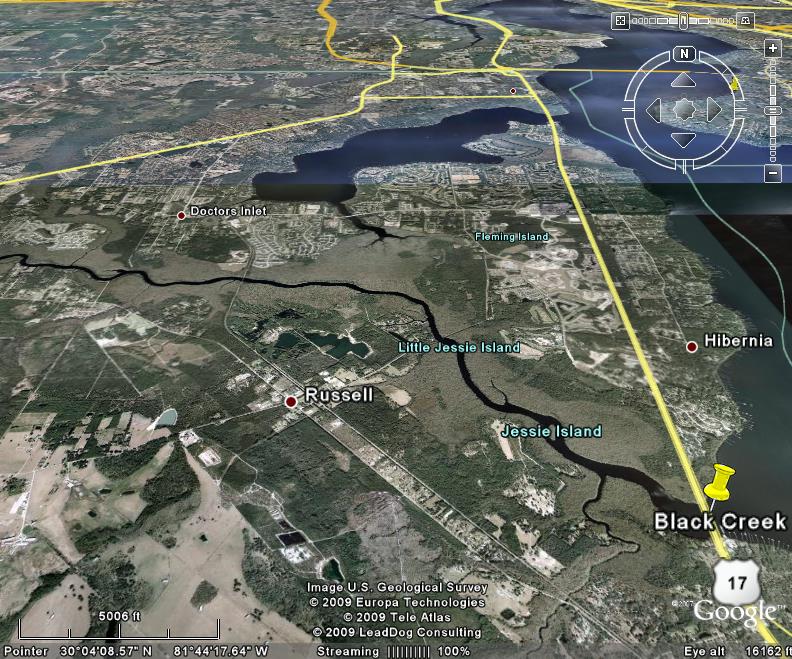 Before launching Steve Howe, Houston Jones and I talked a few minutes about the cold water and itís threats and what to do in case someone took a plunge. We agreed that no one should do that but if it happened the swimmer should immediately head ashore Ė forget about attempting a reentry. After a short technical delay (Houston had to stretch his new spray skirt into position) we ďslidĒ off the concrete ramp and were bobbing in the river admiring some interesting sailboats moored nearby. The air temperature at the start was close to 50 and with the bright sun and our paddling cadence it almost felt too warm at times. Water bottles were put to use quickly (except for Steve Ė his was safely stowed away).

A quick turn underneath the bridge led us into Black Creek and out of the St. Johns River. As we casually paddled along the smooth waters we saw an interesting mix of trees that changed constantly as we moved further away from the river and itís briny water. Soon we encountered large oaks with Spanish moss dangling over our heads and the occasional single towering pine. Wild magnolias were seen in patches along with the expected cypress showing their knees. After paddling a couple of hours we stopped for lunch at an interesting spot. A very old oak had fallen many years ago and up from its trunk had grown a branch possibly 3 feet in diameter and 40 feet vertical. It was practically a tree in itself. Ladder steps were nailed into the original treeís trunk, which led to a rope swing over the cold creek waters. No takers that day for a swing (or a swim)! Although we did walk the waters edge to note the animal tracks in the soft sand; raccoon, deer and the large spread of a wading birdís toes (probably a great Blue Heron). A small school of minnows prowled the shallows begging for crumbs from our lunch.

Among the wildlife sightings: 5-6 Red Shouldered Hawks, a Pileated Woodpecker, a pair of otters, white tail deer, turkeys, several Kingfishers, Cormorants (Anhinga?) and numerous ducks and small birds feeding in the floating grass patches. Also, we encountered a few Great Blue Herons and Egrets as well and one Osprey as we neared the takeout spot. The turkeys may have been the domesticated type though because they appeared too relaxed as they wandered along the waterfront a hundred yards away. The otters were entertaining as usual and stayed with us for about 15-20 minutes as they fed one last time for the day. It was so quiet we could hear them crunching their catch; it sounded like fish bones but could also have been some type of mussel.

Unfortunately, the long evening shadows indicated the day was drawing to a quick end. And since the cold air was beginning to make itís presence felt we decided to call it a day.

All in all Iíd say it was a very pleasant mid-winter outing. We practically had the whole waterway to ourselves along with the critters that owned the place.


Location Data:
| | |
| --- | --- |
| Distance (miles): | 16 |
| Fees/Costs $: | n/a |
Special Interests and Comments:
| | |
| --- | --- |
| | Black Creek |
Post Date: 2/28/2009
Notice: Reported conditions may change and there may be errors in this text. Florida Sea Kayaking Association and author(s) of individual reports shall not be held liable for any omissions and inaccuracies contained herein. Readers are cautioned to supplement reports with other sources of information when planning a trip.